Kacey Musgraves' Early Acoustic Song Recordings Released Today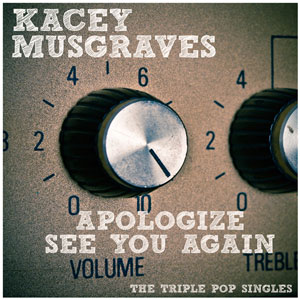 Triple Pop has announced that a two (2) song digital Digital EP featuring songs from Academy of Country Music nominee Kacey Musgraves is available online at the iTunes Store.
Recorded over five years ago in 2008, the exclusive EP features Kacey Musgraves performing acoustic guitar cover versions of the songs "See You Again" and OneRepublic's "Apologize," which the label had thought been lost to the sands of time due to a computer hard drive failure.
The songs were recorded at Brain Machine Recording Studios in Austin, Texas when Ms. Musgraves first got out of high school.
"They're just acoustic songs, but they showcase Kacey's developing performing talent, which has now made her famous.  She took these songs and made them her own," says Triple Pop owner, Monte Robison, who produced the songs.
Ms. Musgraves' hit Billboard single "Merry Go 'Round" has been certified RIAA Gold and her debut  major label album, Same Trailer Different Park, debuted at #2 in the Billboard Top 100 albums.
Kacey Musgraves was nominated for multiple Academy of Country Music Awards, including "Vocalist of the Year', alongside Miranda Lambert, Martina McBride, Taylor Swift and Carrie Underwood.
Listen for free to the full stream of "Apologize" on Soundcloud.