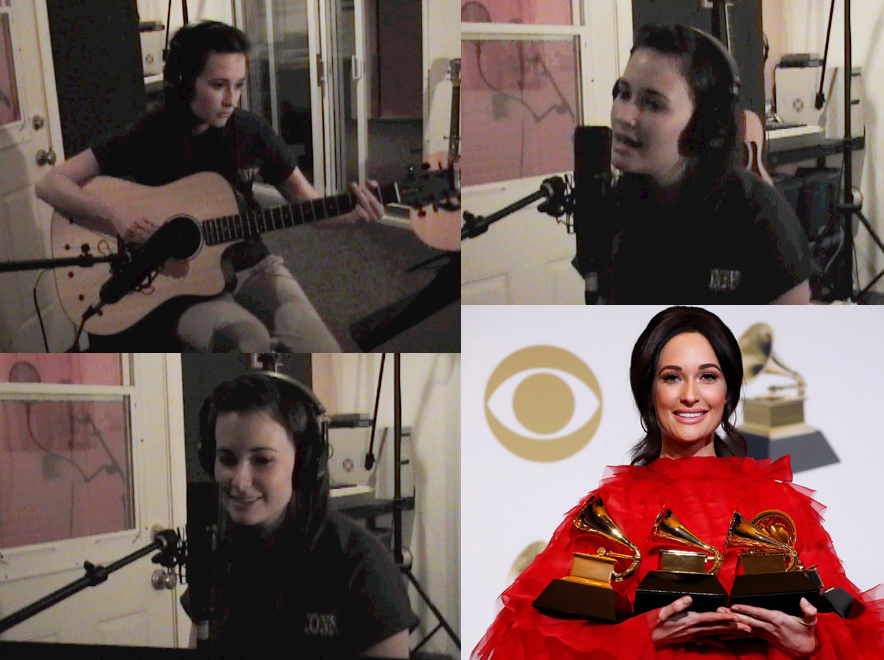 Kacey Musgraves & Triple Pop
Last week, Kacey Musgraves won a total of four (4) GRAMMYs for Album of the Year for her latest album, Golden Hour, which she can add to her growing list of accomplishments.
In addition, Kacey won awards for Best Country Song, Best Country Performance and Best Country Album. Kacey Musgraves has reached the pinnacle of success and crossed over into the mainstream.
As before, I've been getting questions from people about my producing involvement with Kacey before she became famous. My close friends and family know some of the story, but not certain crazy details, like how my label, Triple Pop, produced one of her biggest streaming hits.
The first thing to know is despite whatever is written in her official biography, Kacey had a long history of recordings before she moved to Nashville.
After Kacey signed to Universal Records in 2012, her management company wanted to make it appear as if Kacey was a brand new artist – with no past.
They removed from distribution and omitted most references to all of her prior recordings out of her biography, including the three (3) albums she released while in high school — except they couldn't do that for the recordings she made with Triple Pop.
The recordings I produced with Kacey were during her time in Austin in 2008, right after she graduated from high school, when she was just 19 years old and are owned by my label.
At that time, YouTube was still a new platform. The digital revolution had just started. The first iPhone hadn't even been released. The music business was in decline. Producers who were experimenting with artists doing cover songs on YouTube was a new phenomena.
I had no idea that I would make any money with my new digital label, Triple Pop. With limited resources, I scoured MySpace and Craigslist for up-and-coming singers. I also had a full-time job. My record label was just a side hustle I operated out of my spare bedroom for fun in my spare time.
Social media was still on the old clunky Myspace and that's where I first discovered Kacey Musgraves.
I immediately knew she had the talent; she was a diamond in the rough.
I listened to songs Kacey had posted on MySpace from her three (3) self-produced albums: Movin' On (2002), Wanted: One Good Cowboy (2003) and Kacey Musgraves (2007).
Although the songs were straight forward generic country songs with titles like "When It's Peach Pickin' Time in TX", I remember hearing her voice and being mesmerized.
She had great raw talent to become superstar but she needed better songs to sing, I thought. This was a young Kacey Musgraves, before she became the country pop superstar she is today.
I got in touch with Kacey and we met up outside a yogurt shop in North Austin. Kacey told me she just graduated high school and had moved to Austin from Golden, Texas to pursue music. Nobody knew her name.
She had no fans and had just struck out at her first attempt in Nashville — she appeared on the TV show, Nashville Star, a year earlier when she was 18 years old but she failed to place (she came in seventh).
I told her my prior background in producing albums with Dee Dee Ramone, The Alarm, The Call and working at the talent agency, ICM. I had a good sense in spotting new talent.
Many moons ago, I befriended the legendary A&R executive, Don Grierson, who told me one his biggest challenges was getting artists to record songs they didn't write, but it can also lead to their biggest hits.
With Don's sage advice in mind, I pitched Kacey my idea to record a couple current hit cover songs together in the studio to see how we worked together. I produced, arranged and paid for everything, including a fee to her. If it all worked out, I told her it was my intention to produce her original songs afterwards and use "social media" to market all of it.
In 2008, saying you're going to use "social media" to market music (or anything else) was a crazy new idea – the next frontier that had yet to be explored. Recording with new musicians is always risky – there are personality and timing issues and it takes time and money to rent good recording studios.
I pitched Kacey about five song choices to her including "Yellow" by Coldplay. She was to choose two (2) of my suggestions to record in the studio – she chose "See You Again" (Hannah Montana) and "Apologize" (OneRepublic), which reflected her interest in pop music.
Kacey Musgraves, Brain Machine Recording Studio, March 2008
I remember trying to persuade Kacey to record Coldplay's "Yellow" instead of "See You Again," as I thought it was a better song, but she passed.
During the recording sessions, Kacey was professional and focused. She wanted the songs to be 'just right' and we spent a full evening recording and mixing the recordings.
Here's some video I took of Kacey in the studio:
Kacey was happy with the recordings – soon afterwards, she performed "Apologize" live at a local charity event:
Kacey then invited me out to see her perform at Momo's, a local bar in Austin. I remember showing up and it was just her grandmother, the bartender and me in the audience. I got a private concert from the future GRAMMY superstar. She was a great live performer, too.
Then, again, Kacey invited me out to lunch (she was persistent – one the key traits of success). Although she was young, Kacey struck me as being very wise beyond her years.
Kacey asked me for advice and asked if I would manage her. We talked about recording some original songs together in the future.
I could sense that she needed direction on what to do next. I encouraged her to keep writing songs and suggested she move to Nashville and work with other songwriters to develop her craft and come back to me with the original demos.
At age 19, Kacey just wasn't fully developed yet as a songwriter – she hadn't yet developed her clever songwriting craft for which she has become famous for today.
Triple Pop released "See You Again" on iTunes in 2008. Kacey ended up in Nashville a few years later. We lost touch over the years.
When I heard Kacey's first major label album was going be released in 2013, I went back into my archives and luckily found the digital CD master for "Apologize" which I had thought was lost. I also found the videotape of the recording session.
My label, Triple Pop, released both "See You Again" and "Apologize" on a digital EP on April 9, 2013.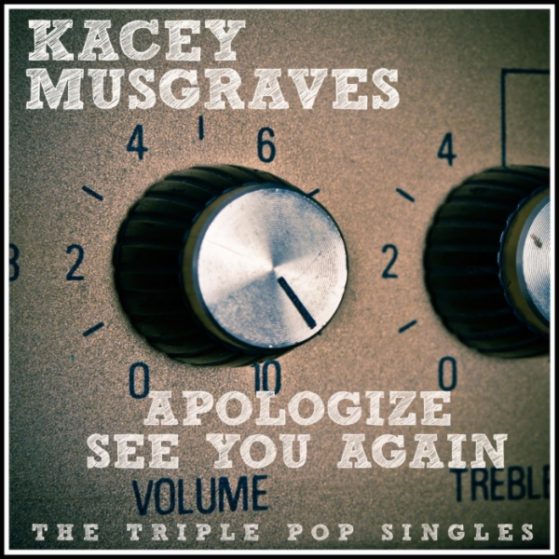 Her manager later made an offer to buy out the Triple Pop contract.
In 1953, Elvis Presley walked into Sun Studio Studios and recorded his first songs. They were also acoustic guitar cover songs: "That's When Your Heartache Begins" and "My Happiness" by The Ink Spots. Luckily, producer Sam Phillips kept the masters and released both and they exist as a recording artifact of the evolution of a legendary artist.
We passed on the offer to sell the master rights, although there was no certainty of her success. But I believed in her talent and I had a strong conviction the recordings would be valuable one day.
Within a couple years, the snowballing of her achievements and acclaim began to gather steam. Then, in 2015, it hit — "Apologize" went on to become Kacey Musgraves' #1 most streamed song on Spotify, racking up nearly 35 million (35,000,000+) streams by 2018.
Between 2015 and 2018, "Apologize" was her #1 most streamed track worldwide: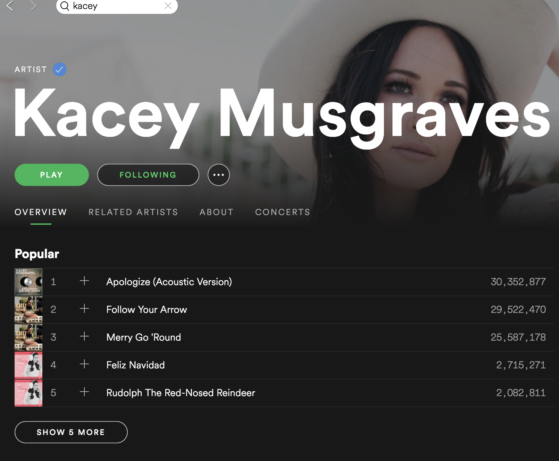 In 2014, "Apologize" charted in Billboard's Hot Singles chart at #23, marking my first Billboard chart entry as a producer.
The Official YouTube video did well, too, with over 500,000 views to date:
The combination of "Apologize" with Kacey's voice was just magic — her fans recognized it, too, and they made it into one of her biggest streamed hits.  It had Kacey's vocal pixie dust sprinkled all over it.
Marie Claire magazine recently ranked "Apologize" as her #4 best song!
Oh, yeah, and Kacey finally performed an acoustic version of Coldplay's "Yellow" live for Prince Harry in the UK in 2015:
Triple Pop celebrates Kacey Musgraves continuing success by making sure everybody hears where it all started, with these endearing and popular acoustic recordings.
Available on Spotify and Apple Music and everywhere else.